U92 Where The Music And "U" Make The Difference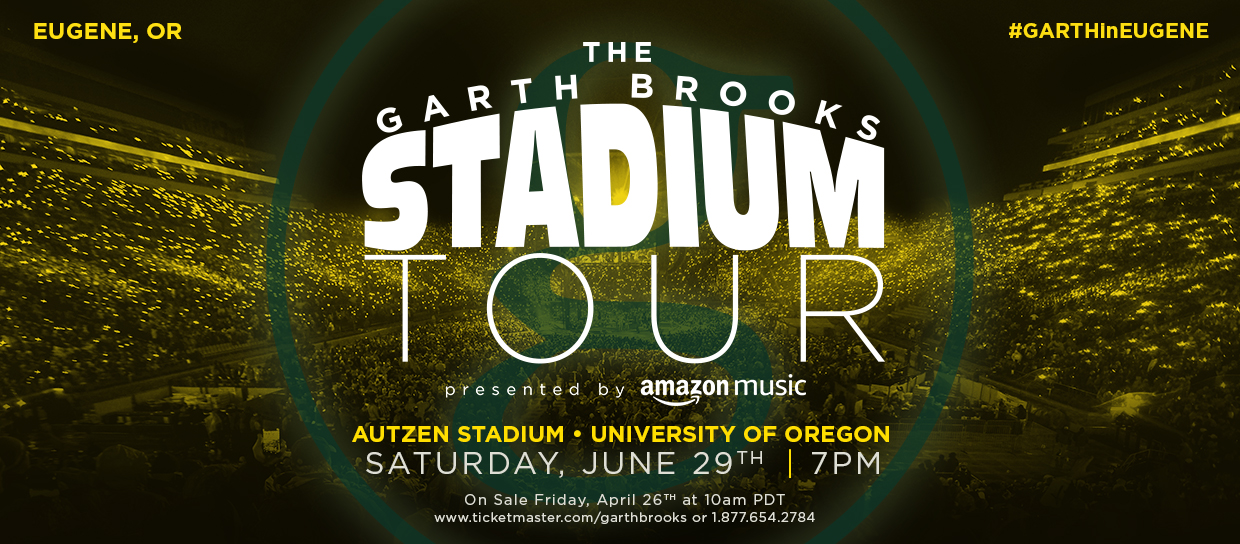 The ELECTRIFYING RETURN TO THE STATE OF OREGON OF THE MOST POTENT, EXPLOSIVE FORCE IN AMERICAN MUSIC HISTORY!!!
The Number One Selling Solo Artist in U.S. History
12 Time CMA-ACM Entertainer of the Year
GARTH BROOKS
Saturday, June 29TH 7:00 PM
Autzen Stadium
University of Oregon
Eugene, OR
RAIN OR SHINE
Presented by Amazon Music
TICKETS ON SALE
Friday, April 26th*
10:00AM PDT Sharp!
8 ticket limit!!
Buy ONLY at the following:
1) www.ticketmaster.com/garthbrooks
2) Ticketmaster Express 1-877-654-2784
3) Go to the Ticketmaster app on your mobile device
*No advance box office sales.
ALL SEATS RESERVED
TICKET PRICES:
$83.70 + $3.00 Facility Fee+ $1.00 BF+$7.25 Service Charge = $94.95.
SPECIAL NOTE:
Please go NOW to Ticketmaster.com/GarthBrooks and click "On Sale Tips" to create an account or refresh your existing Ticketmaster account for a quicker purchasing experience.
What You're Missing When You're Not Listening to All-American Country, U92...92.7 FM:
Absolutely the Best Country Music is here, a mix of the best of the new and the best of the gold.


Toledo Boomer Sports. Including Podcasts Of Toledo Football & Basketball Games


Every Sunday morning from 8 am until noon, Bob Kingsley's Counrty Top 40.
Sunday from Noon to 1PM: "New Music Nashville"
The Horse Show Minute, tips for the care and love of horses, weekdays With Rick Lamb at 7:15 am and 6:30 pm.
Regular Country Artist concerts and interviews with artists like Toby Keith, Faith Hill, Garth Brooks, Alan Jackson, George Strait, Martina McBride, Shania Twain.
Great personality country radio announcers- 24 hours every day, with contests, country artist information.
Local News with Kiera Morgan, the only local radio news department in Lincoln County, weekdays at 7 am, 8 am, noon and 5 pm.